The Problem
Daily companies are churning out content. The content is dispersed into many channels, social media, web pages, brochures, and many other vehicles including internal company usages. With so much content, it is hard to manage and ensure that it is not inconsistent or out of date. With remote work, the need to use systems to control content has become even more important.
According to Gartner, "there is increased focus on three trends that are present across organizations, regardless of industry:
Tackling content sprawl: Organizations have a multitude of content repositories, and with the increasing prevalence of SaaS, more silos materialize on a regular basis.
Delivering digital business transformation: CSP technology is in demand to underpin new operations and processes that utilize content as a key component in innovative ways.
Modernizing work: Users' expectations have changed for good, due to the ubiquity of compelling user experiences in consumer applications."
The impact of Content Sprawl
There are a number of issues that are obvious. The following table shows the main reasons why customers unfollow brands. Content sprawl doesn't figure explicitly in the list but it is behind many of the problems listed.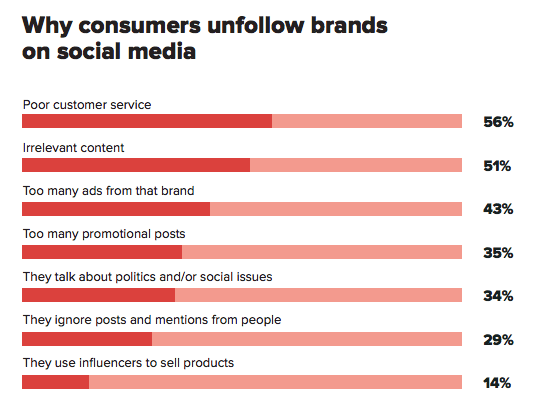 Tackling Content Sprawl
Processes and Standards: Most companies will have processes and standards to try to prevent content sprawl. It is important it is on the management list to monitor and responsibility for the management of content is recognized and assigned.
Co-ordination: To ensure customers are getting the same message and the brands of the company are protected, co-ordination is the key. It is necessary to ensure all marketing, sales, web, and social media teams have a clear picture of the brand values and the product functions and features.
Audits: Audits of public content will be essential. It is important any out-of-date or inconsistent content can be either removed for fixed quickly.
Target Persona: Building sets of the persona of the company's targets is important. This may vary with each campaign but as well there needs to be a standard persona that encompasses all sets.
Systems that assist Sales Content Management
Tagged:
Content
Content Management
Tackling Content Sprawl